DIY | Ripped Jeans
Ik ben niet zo'n fan van het "jatten" van andermans content, maar deze Do It Yourself (DIY)  jeans kapot knippen van blogster Love Aesthetics vind ik zo leuk dat ik die wel met jullie moet delen. Ik wil het zelf ontzettend graag uitproberen, maar heb er nog niet de tijd voor vrijgemaakt! Dus mocht je me voor zijn, dan ben ik erg benieuwd hoe jouw creatie uitgepakt is.
Ripped Jeans zijn overigens helemaal hot en ik ben al maanden op zoek naar The perfect Pair. Tsja, waarom zoeken als de oplossing binnen handbereik ligt? Let's try this!
Wat heb je nodig?
Denim jeans
Krijt
Schaar
Een naald
This is how we do it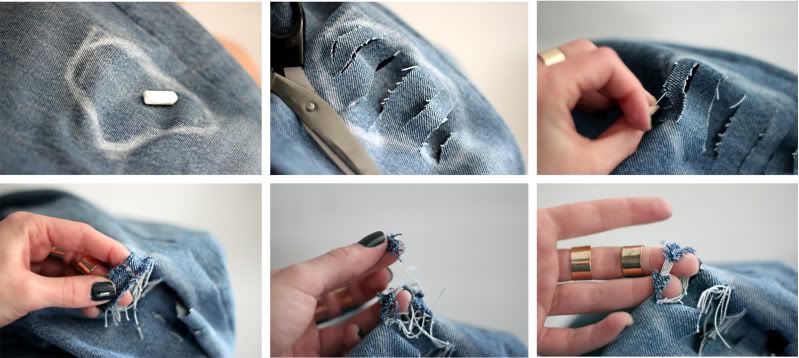 Teken met de krijt op de plaats(en) waar je de gaten wilt hebben (als je de broek aan hebt maak je het jezelf gemakkelijker);
Knip horizontale "gaten" of spleten op de plek(ken) waar je hebt gekrijt;
Trek met een naald de (witte) horizontale draden uit het gat;
Na de witte draden is het de beurt aan de blauwe draden;
Klaar is kees! Was de jeans als je klaar bent om de gaten er natuurlijker uit te laten zien!
Heb je ooit zelf Ripped Clothing gemaakt?
---
---
---